Overview
DAEMO is a manufacturer of highest quality attachments focused on innovation and advanced technology.
Under the slogan 'Reliable Promise', DAEMO ENGINEERING was founded in 1989 to make the world better. We have grown by introducing the Korean hydraulic attachment industries, which was dependent on the overseas market, to the local market. At present, DAEMO has become a representative in Korean hydraulic attachments field with a global network reaching 80 overseas dealers in 70 countries. Also we have 4 overseas branches in Belgium, United States, India, and China. With these local offices, we are able to provide fast & accurate customer service 24/7.

Since 1989, DAEMO has been steadily investing in the R&D department. With their priceless endeavor, DAEMO has obtained 140 patents. [Domestic & Overseas, Design, and Trade mark rights]

2019, the 30th anniversary of DAEMO was a very special year for us. We moved to a new office and start operating the smart factory filled with the state-of-the art technologies such as Real-time monitoring system, Auto stacker, and Non-stop manufacturing process. Furthermore, we've expanded our business field to a new industry - Special purpose machine field.

DAEMO has been making constant efforts to prepare the fourth industrial revolution. We are focusing on hydraulic breakers using ICT (Information & Communications Technology) and customized special purpose machines. We'll make our day. Confidently promise you.
We're here, We're DAEMO.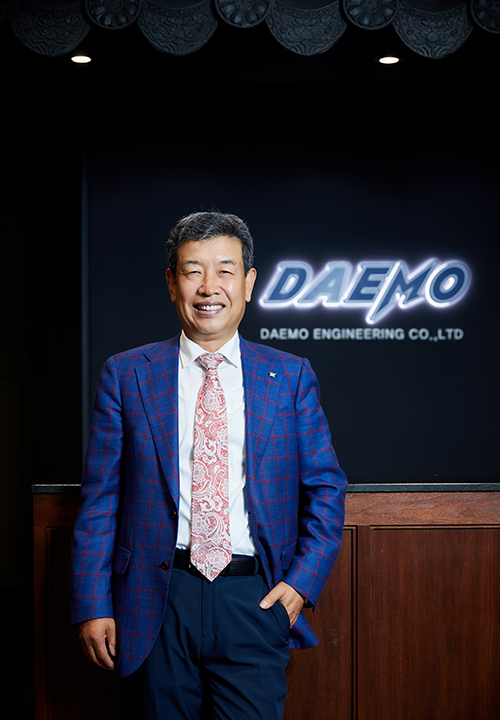 · President

Lee, Won Hae

· Head office

56 Emtibeui 26-ro 58beon-gil, Siheung-si, Gyeonggi-do, 15118 Korea​
· Establishment

Jul.01.1989 (turned into a corporation)

· Main Products

Hydraulic Breaker, Concrete Crusher, Shear, Quick Coupler and all kinds of attachments for Excavator